FruitCase from Net Ent is an interesting game which has been specifically designed for those with low bandwidth who still want a fully- featured slot.
It features avalanche reels (only the second time for Net Ent since Gonzo's Quest).
Read on for more details and payout information…
The time is ripe for Fruit Case, the 5-reel, 3-line video slot where fresh fruit moves
along conveyor belts until it is crushed to yield juicy winnings. The possible Free Fall 
wins you can get in addition to normal winnings are just like jam on toast—sweet and
satisfying.
If your bet line includes a Wild symbol, get ready to squeeze out even more winnings.
A Wild symbol not only substitutes for other symbols on a bet line; an increasing Wild
Multiplier is applied with each successive avalanche of symbols in a game round.
Fruit Case is one of the first games in Net Entertainment's Smart Range™ offering,
delivering the rich player experience you expect from Net Entertainment packaged in a
reduced game download size.
Payout %
Total game 96.4
Main game 70.6
Free Falls 25.8
Maximum Payout €
Main game per bet line 80 000
Free Falls per bet line 240 000
Free Falls per spin 360 000
Hit Frequencies Game Feature % for 20 Bet lines
Main game 41.1
Free Fall 54.4
Game Features • Avalanche system game play instead of traditional
reel spin.
• Wild substitutions and increasing wild multipliers.
• Free Falls.
Avalanches
Fruit Case uses the Avalanche™ feature, whereby symbols fall into 
place in the reels instead of spinning. Symbols that make up a
winning bet line are crushed and disappear, and the gaps they leave
are filled with more falling symbols. As long as there are winning bet
lines, there are repeat Avalanches.
A game round is made up of a series of Avalanches and, if won, a
number of Free Falls.
After the player clicks the spin button, the initial Avalanche of symbols
starts the game round. When the symbols have come to rest, winning
bet lines are highlighted. If the player has a winning bet line, the win
amount is added to the win field, and the second Avalanche of symbols occurs.

Free Falls

Fruit Case features an animated Free Fall symbol that gives the
player a chance to enter the Free Fall feature.
•Free Fall feature. 3 Free Fall symbols activate 10 Free Falls.
The Free Falls are played at the same bet level as the game that
triggered the Free Fall. A dynamic sign informs players how many
Free Falls are remaining.
•Re-triggered Free Falls. During Free Fall, 3 Free Fall symbols
give additional Free Falls.
•Free Falls wins. Bet line coin wins during Free Falls are tripled
(x3). The winnings are added to the player's cash at the end of
the Free Falls. The number of coins won in the current Free Fall
round and the total number of coins won during the entire Free
Fall session are displayed in the keypad area during Free Fall.
Wild symbol
Fruit Case has an animated Wild symbol when displayed on a
winning bet line.
•Substitution. Wild symbols substitute for any other symbol –
including Free Fall symbols – to complete winning bet lines.
•Wild Multiplier. The Wild multiplier applies to winning bet lines
that are completed by Wild symbols. The multiplier increases with
each successive Avalanche in a single game round as follows:
Avalanche Multiplier
1st Avalanche x 2
2nd Avalanche x 4
3rd Avalanche x 6
4th+ Avalanche x 8
• The Wild multiplier does not affect the number of Free falls won.
• Only one Wild multiplier is applied per bet line.
•Wild Multiplier Indicator. A table at the top of the game display
shows the Wild Multipliers with the current multiplier highlighted.
In addition, the current Wild multiplier is shown on any Wild
symbols appearing on the reels.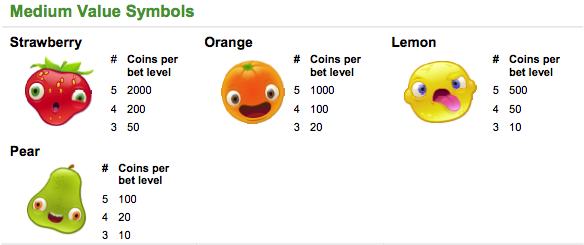 Share and Enjoy